Two-way Cassette
Quiet Operation
Optimised airflow duct with low resistance greatly reduces noise, down to a minimum of 24dB(A)
Stylish Design and Slim Body
Thanks to the stylish appearance and slim body, the unit suits any room's décor and ambience. At only 300mm high, the unit requires only a small space in suspended ceilings. Installation has no height limitations, which means overall design features much more flexibility.
High-lift Pump
Standard built-in drain pump with 750mm pump head (higher pump head can be customised)
High Airflow
High airflow for high ceiling application guarantees comfort in large space. Guarantees even airflow and temperature throughout the room.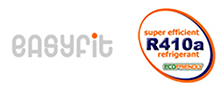 Product Datasheet
All ACC products are guaranteed for 12 months (unless otherwise stated) from the date of original purchase. For more information about our Warranty click here.