One-Way Cassette
Min.153mm Thickness
Compact design, ultra slim body with a minimum thinkness of 153mm for models 18-36 and 189mm for models 45-56, especially suitable for narrow ceiling, such as in lobbies and small meeting rooms.
High-lift Pump
Standard built-in drain pump with 750mm pump head.
Fresh Air, Improved Air Quality
Reserved fresh air intake port for high quality air creates a comfortable and healthy environment (for models 45-56).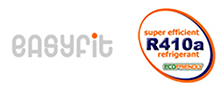 All ACC products are guaranteed for 12 months (unless otherwise stated) from the date of original purchase. For more information about our Warranty click here.