MDV-V120W/DRN1
Our EASYfit VRF mini series outdoor units are perfect for  commercial use. The MDV-V120W/DRN1 is a highly energy efficient, easy to install, multipurpose outdoor unit can be used all year round. It will keep your home or office cool and fresh during the summer months and toasty and warm throughout the winter.
High Efficiency
Wide Application
Easy Installation and Service
Highly Efficient – Simple To Install
Easy installation : No special area is required for outdoor units. Easy transportation: All outdoor units can be transported by elevator, which greatly simplifies installation and reduces time and labour. The mini VRF system's indoor and outdoor units are almost as easy to install as residential air conditioning systems, making them ideal for small offices and shops.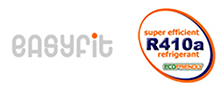 All ACC products are guaranteed for 12 months (unless otherwise stated) from the date of original purchase. For more information about our Warranty click here.